We offer various services for schools as detailed below. If you would like a more bespoke service please contact us via info@colourblindawareness.org.
INSET TALKS
If you would like a representative of Colour Blind Awareness to come and speak to teachers at your school we do offer an INSET talk (approximately 1 hour). This provides teaching staff with a general overview of colour blindness including examples of everyday problems which might arise plus an interactive quiz where teachers can find out how they might cope with everyday schoolwork if they were colour blind!
Our current charges are £125 for the talk plus travel costs.
Contact us at info@colourblindawareness.org for more information.
See how much fun they can be!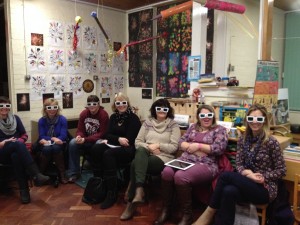 COLOUR VISION SCREENING TESTS
We also offer a screening testing for pupils and/or training of your SEN staff to allow you to undertake your own screening tests.
We usually find about 80% of children moving up to Key Stage 3 (11 years) have never had a colour vision test. Although about 75% have had a standard NHS eye test this does not include a colour vision test, so parents can mistakenly assume that their child has normal colour vision. This means that on average around 80% of colour blind children arrive at their secondary school not knowing that they have a colour vision deficiency.
We can test 30 children in an hour, so for example would be able to test half of a new Year 7 cohort (60 pupils) in a morning or afternoon.
Ideally children should be tested as soon as they enter Reception/Key Stage 1.
Charges vary depending upon location and numbers of children to be tested.
Please contact info@colourblindawareness.org for more information.
PRODUCTS
Visit our SHOP for stickers of various sizes to label coloured items in your classroom – pencil crayons, storage boxes, jars of beads etc – so your colour blind pupils can choose coloured items independently and with confidence, and/or buy self-labelled crayons, pencil crayons and so on to save you the hassle of labelling yourself.
ACCREDITATION
For information about how your school can gain our Accreditation Mark and for details of Best Practice guidelines click BEST PRACTICE AND ACCREDITATION FOR SCHOOLS