Our aim is to help individuals, clubs, businesses and federations alike make their sport more inclusive for people with colour blindness. Most people involved in sport, from local clubs to national squads, from players to referees, from children to pensioners, have a passion for what they do – so why not make sure that passion can be shared fully with the millions of colour blind people in the UK and across the world?
You could start by sharing this great animation from the Football Association (but it's relevant to most sports)
Colour blindness is an important issue in sport – for players, spectators, and investors – from the grass roots through to the highest professional level. It can impact on a person's performance, spoil the enjoyment of watching sport (live or on TV) and have an adverse effect on revenues if colour blind people turn their back on sport in frustration.
Failure to acknowledge the difficulties for colour blind people in sport risks alienating them in significant numbers. In the UK, close to 3 million people have CVD (colour vision deficiency) – enough to fill Wembley stadium more than 30 times over. That's a lot of lost ticket sales!
There are also safety issues at stake. If a hockey player with CVD can't see the ball clearly, for example, he or she will take longer to take evasive action from a flying ball – see: Coaching, Kit and Equipment. Or if there is a security alert in a stadium, a spectator with CVD might not be able to spot the safety signs depending on the colour of the sign – see: Stadia and Grounds – Wayfinding and Security. These types of incident could result in serious repercussions for the individuals involved, and also for associations or clubs.
The good news is that implementing procedures to assist and protect those with colour blindness in sport is relatively simple. Much of the time, all that's needed is a little goodwill and forward planning. For example, avoid choosing team kits that clash, don't use a colour ball that CVD players and viewers can't make out easily, make sure colours used on the club website are legible for those with CVD. See: Simple Solutions.
This clip taken from Lars Lagerbäck's video See Coaching, Kit and Equipment shows that if two teams play in colour strips that appear the same (like in the right-hand section of the video), it's almost impossible for colour blind players and spectators to tell them apart.
Many leading organisations in sport, such as UEFA, the English FA, La Liga (Portugal), the Swedish FA (Svenska Fotbollförbundet; SvFF) and the Federation of the European Sporting Goods Industry (FESI), have already taken up the baton, including, in some cases, adding measures to help colour blind people into their social inclusion programmes. See: Marketing, PR & Media.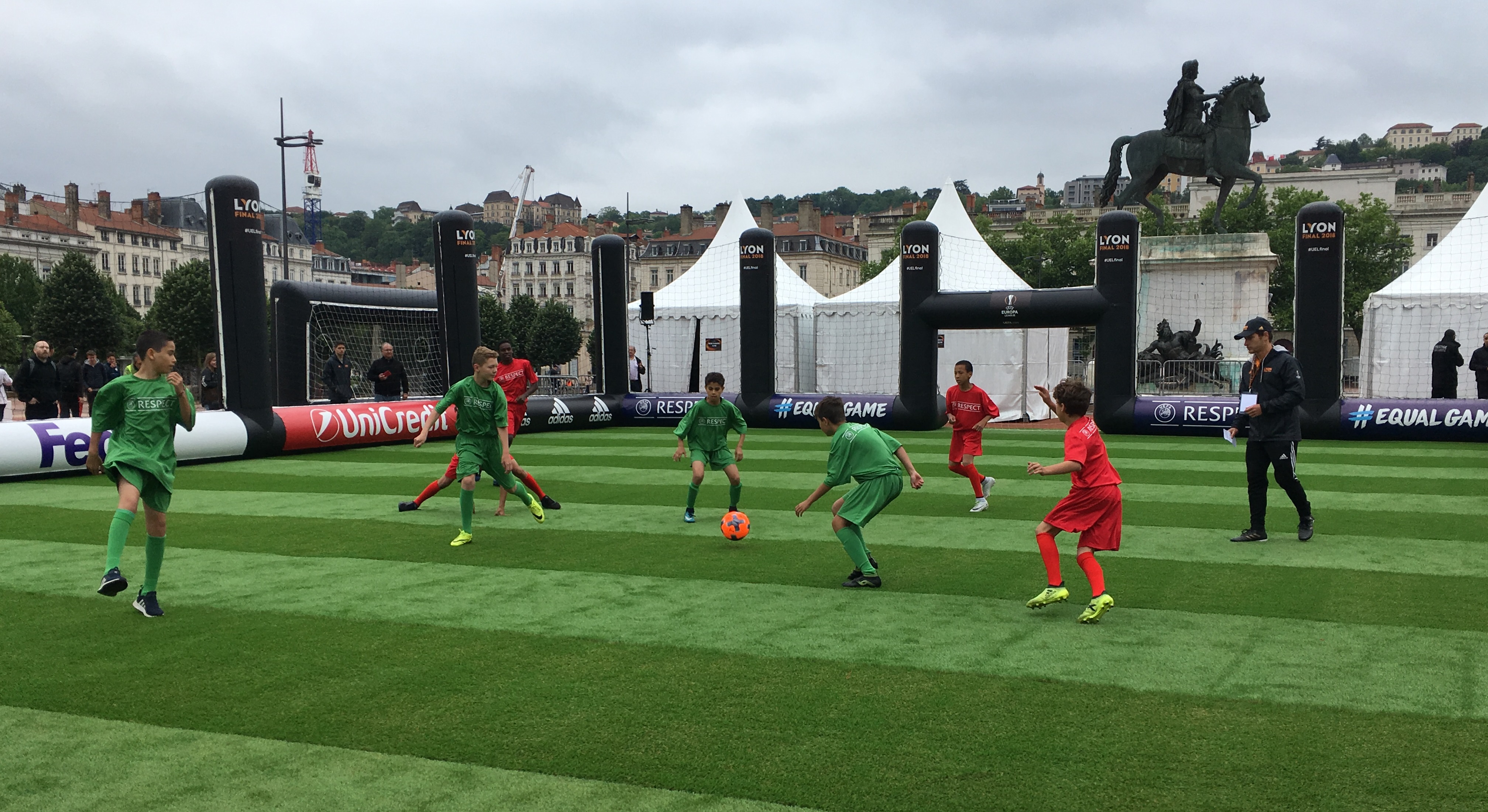 At the same time, leading figures in sport are starting to speak out about discrimination in sport for those with colour blindness. In March 2017, The Times newspaper reported Yorkshire cricket captain Gary Ballance stating that he potentially couldn't play in the day-night game against Surrey in the County Championship because of the decision to use a pink ball which he finds particularly difficult to see. While a pink ball apparently improves visibility for players with normal vision under floodlights, it's the reverse for colour blind players. Retired Australian cricketer Chris Rogers has also regularly spoken of his difficulty seeing the pink ball when playing in night games in Australia, however cricketing authorities appear to be continuing to insist on its use, unlike the English FA which was keen to address problems caused by their own 'pink' FA cup ball used in the 2014/15 season.
Often a lack of awareness about CVD is the cause of this unwitting discrimination, in sport as in other walks of life, but that does not make it acceptable. Here at Colour Blind Awareness, we are spreading the word in the sporting world, working together with leading sports bodies and clubs, with football very much in the vanguard (UEFA, the English and Swedish FAs, the Portuguese Liga, Tottenham Hotspur FC), frequently presenting at key events and advising organisations across Europe.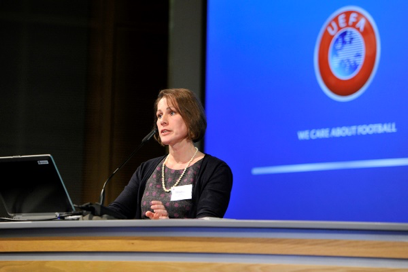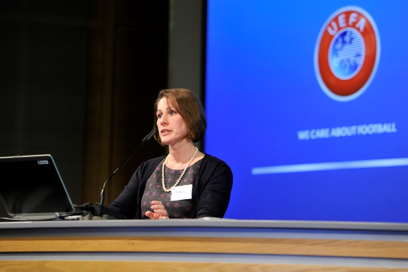 © UEFA
We are also supported in our efforts by some well-known names in sport who have CVD. Their endorsement and first-hand stories of personal experience are invaluable when highlighting the issues of colour blindness in sport.
Colour blindness has long been ignored and misunderstood, not just in sport, also in wider society. As someone with colour blindness I know first-hand the challenges that colour blindness can bring in terms of enjoying everyday events such as watching or playing sport, from grass roots to international level. Colour Blind Awareness does a great job of highlighting the many challenges colour blind people face, especially children just embarking on their sporting life and they work hard to remove the barriers that prevent colour blind people from fully engaging in something they love.
Mike Blair, Former international rugby player, Scotland Captain and British Lion
To gain further insights into the everyday frustrations for colour blind football fans read our report created for the Football Supporters Association here Report of Colour Blind Football Fans' Focus Group.
Find out more about the diagnosis of colour blindness
Find out more about the causes of colour blindness
Find out more about the different types of colour blindness