We tend to focus on the action in sport, but in reality the difficulties experienced by colour blind people can be just as significant away from the action – not least, simply finding their way to the ground and then locating their seat!
Security becomes an issue at this point too, notably at big events. Given the large numbers of colour blind people that may be attending, it is important to be aware of the external and internal factors that might affect crowd control or safe evacuation procedures.
As a significant number of people, especially men, are colour blind there will be many stewards and emergency services personnel who might also be confused by colour coded information in stadia.
Colour Blindness Accessibility Audits – for stadia and grounds
Colour Blind Awareness undertakes Colour Blindness Accessibility Audits of stadia and sports grounds for clients across Europe including UEFA and the FA. We are also proud to have been involved in advising the Sports Ground Safety Authority on amendments to the 6th Edition of the 'Green' Guide to Safety in Sports Grounds, which was launched in October 2018. For more information see Annex C – Guidance on Colour Vision Deficiency. If you would like to find out more about the services we can provide for stadium and ground operators, including the audits we have already undertaken of Wembley Stadium (on behalf of the FA) and the Euro 2020 host venue stadia (on behalf of UEFA) please contact us via info@colourblindawareness.org
Guidance and Factsheets
In addition to the information within the FA/UEFA Guidance (see our Guidance Documents for Football section), in conjunction with the FA/The Premier League/The English Football League we have also created some factsheets for Clubs/stadium operators which can be downloaded by clicking on these links
Colour Blindness and Football – An Introductory Guide for Clubs
Guide to Colour Blind Friendly Stadia
Briefing Note – Colour Blind Friendly Ticketing
External wayfinding
Wayfinding information such as venue maps and signposting, inside and outside stadia events, regularly relies on colour and/or colour coding alone to differentiate. However, information presented in this way is often inaccessible to many colour blind people.
It can be very frustrating and embarrassing for colour blind people to have to always seek help from stewards or other people to find their way. More importantly, in emergency situations, if a colour blind person is unable to understand a colour-coded map easily, it could have serious repercussions. It's therefore essential that clubs, associations and federations educate external authorities and third-party stakeholders about the potential dangers. Getting them on board is key to making stadia events safe for people with CVD.
Internal wayfinding
Sports grounds and stadia provide a lot of practical internal wayfinding information that we take for granted, such as stadium plans, seating plans, car-parking information, where to find toilets and bars. Information can be presented in a variety of ways – signs on walls, hanging banners, circulation routes, totem signs plus details printed on tickets and in match day programmes.
Again, colour often plays a key role – either to differentiate information (seat plans) or to make a sign stand out (a fire exit sign). To be sure that colour-coded information is accessible also to colour blind people, it should also have a secondary form of labelling that does not rely on colours.
Similarly, check that any signage, especially any emergency signs, does not rely on colours that are difficult for colour blind people to see. For example, a green fire exit sign doesn't stand out against a grey concrete wall for someone with CVD. However, the same sign, mounted onto a bright yellow background, will stand out for colour blind people equally as well as for those with normal vision.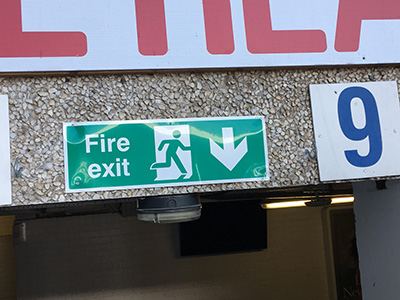 Normal Vision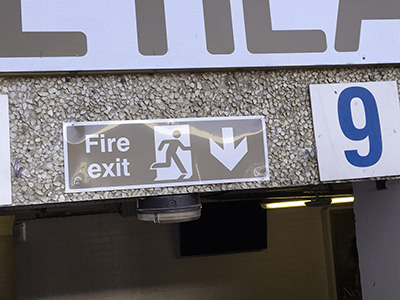 Protanopia
The green of the sign appears as a dull grey colour to colour blind people, so they may be slower to follow emergency evacuation procedures.
At Tottenham Hotspur FC, the team responsible for the redevelopment of the club's White Hart Lane stadium has been working closely with Colour Blind Awareness to ensure their new facilities will be fully colour blind friendly as part of their stated ambition to make their new stadium the most accessible in the world.
Particular issues for stadium operations/management
Colour blindness can cause particular issues for stadium staff. Many people with colour blindness are undiagnosed and therefore may be unaware of information which is obvious to someone with normal colour vision – for example, they may not know if essential equipment is charged and ready for use, or be able to make sense of emergency evacuation plans and procedures. They may not fully understand software used in the Control Room – for example fire control panel LED lights. Stewards may not be able to fully access information in their stewards' pack.
Existing stadia can be audited and temporary fixes applied to improve wayfinding, or address problems arising in digital information.
New stadium design can incorporate good practice from the start, such as ensuring architects plans, M&E drawings, signage and other physical features (e.g. paint colour of stair nosings) meet minimum colour contrast standards.
Stadium Facilities Management professionals, in particular, should take a lead to ensure emergency signs and emergency planning routes don't just rely on colour to convey important safety information. Accreditation systems should also be carefully reviewed.
And why not take it a step further? Review other facilities – for example, toilets (does a cubicle use red and green to indicate occupied or vacant?), advertising hoardings, scoreboards and replay screens… The more inclusive the experience for people with CVD, the more likely they'll be back.
Find out more about the diagnosis of colour blindness
Find out more about the causes of colour blindness
Find out more about the different types of colour blindness