Launched 6th May 2022 – Join In!
Watch this fantastic BBC South Today clip first
To raise awareness of colour blindness in primary schools we've teaming up with fabulous colour blind children's author and illustrator  Steve Antony to create activities for the Queen's Platinum Jubilee.
Steve has helped us by developing resources for children to redesign their own version of the Queen's Hat from his very successful children's book, The Queens Hat.
The campaign is aimed at raising awareness of colour blindness amongst teachers and parents. Once their class has created colourful designs for the Queen's Hat, we'd love teachers to display them in school, but with an added activity for the teachers themselves.
Teachers are encouraged to display the children's hats on a wall, then w download the CV Simulator app onto a tablet. The app shows how the designs appear to people with different types of colour blindness. We hope this will encourage teachers to start by doing Just One Thing to help the colour blind children in their classrooms.
The Just One Thing we'd like teachers to do is to label all the coloured pencils, felt tips, crayons and paints in their classroom with the name of their colour (or a picture for very young children who can't yet read).
This Just One Thing will make a real difference to the lives of colour blind children in school, allowing them to complete activities such as worksheets accurately, whilst improving their confidence.
Parents – you can also do all the activities with your children at home!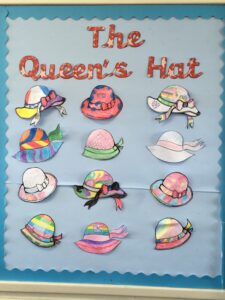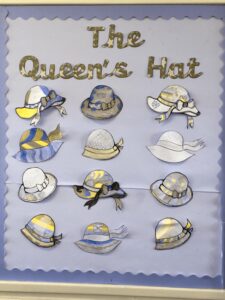 On the left is one of the Mountford Manor displays of their Redesigned Queen's Hats and on the right the same display as seen through the CV Simulator App. The children were fascinated at seeing their designs as someone with colour blindness might see them.
We had a fantastic launch event at Mountford Manor School in Swindon on 6th May when a BBC South Today TV crew filmed footage for a short TV feature which was aired on 16th May 2022.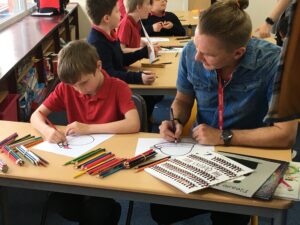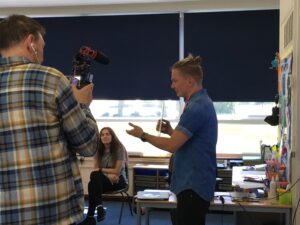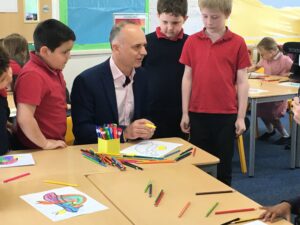 If you'd like your school/child(ren) to take part in the meantime you can download the activities and instructions here Redesign The Queens Hat activity sheet. Post your lovely Redesigned Queen's Hat photos to our social media @colourblindorg and don't forget to also copy in @MrSteveAntony and to use the hashtags  #TheQueensHatRedesigned and  #JustOneThing.
Teachers, don't forget to check out our Education section, in particular the interactive Resources for Teachers page.
Parents, look out for our factsheets and more information on how to support colour blind children at home in our Families section.