Coaching
It's vital that coaches understand the needs of colour blind people so they can get the most from individuals and for their teams as a whole. But you don't have to take our word for it – just watch these two fantastic videos produced for us by UEFA and the Football Association!
In this first video, The Colourful Game, colour blind players, coaches and other stakeholders in football explain the issues and the simple solutions which can really make a difference.
In the second video here elite football coach, Lars Lagerbäck, (shown below) speaks about his experiences of colour blindness in football.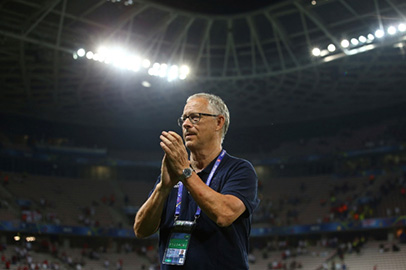 © UEFA
Go to our Guidance Documents for Football page for more detailed guidance or click here to download a 2 page factsheet designed specifically for coaches
Kit clashes
A poor combination of kit colours is one of the biggest problems for sportsmen and women – and spectators – with CVD. This includes kits that clash with each other, with a referee's or keepers' kits and with the pitch.
The kit combinations that cause the greatest problems for colour blind people, though by no means the only combinations, are:
Red v black (including striped and patterned kits)
Red v green v orange
Bright green v yellow
White v pastel colours e.g. pale blue
Blue v purple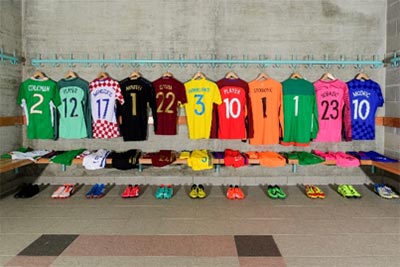 Normal Vision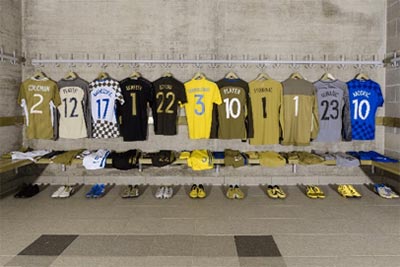 Protanopia
Colour combinations that work well include:
White v black
Red v yellow
Black v yellow
Blue v white
Blue v yellow
Red v white
BUT all-red kits can cause issues because they can have the effect of completely disappearing against the green of the pitch. Other colours which can clash against a green pitch are all-orange and all-green kits.
As a basic rule, the more colours there are in a kit, the more likely it is that kit clashes will arise.
The problem is not restricted to team shirts – socks and shorts also come into the equation. A strong contrast between shorts or sock colours and shirt colours are often the only way colour blind people can tell teams apart. If there's insufficient contrast players may have problems in telling their own team from the opposition.
In one particular match when we were in red and they were in dark green, I couldn't tell the teams apart. I had to really concentrate in that game looking at the socks because they were easier for me to distinguish and there was nothing else I could do.
Matt Holland,
former professional footballer (Republic of Ireland & Ipswich Town FC)
Lars Lagerbäck also discusses this problem in his video
Equipment
In matches and training situations, be aware of the colours of the equipment used. Can they be 'seen' by colour blind players and spectators? For example, using an orange hockey ball on green Astro Turf can make the ball difficult to see. Refer to the FA's Guidance for more information on how to address these issues. When designing sports facilities see also Sports Surfacing for the Colour Blind which provides information on the best colour combinations of floor surface and line marking colours and which has been nominated for several awards by the Australian sporting industry.
Coaches and trainers in particular should bear in mind that the following equipment choices can be problematic for people with CVD:
Coloured balls (red, pink, orange etc.) can 'disappear' against a green pitch/court
Use of different colour line-markings to map out the perimeter of a pitch or court – white is best
Certain coloured bibs or arm-bands used in training may not be distinguishable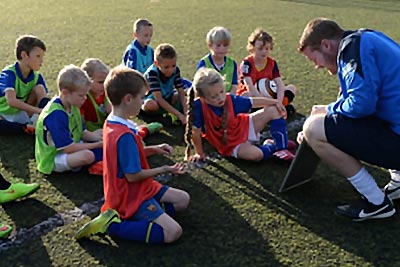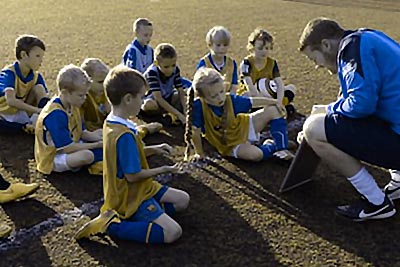 ©The FA
Youngsters with CVD will not be able to tell these coloured bibs apart
Red/green/orange cones used in training, or to mark out a temporary pitch, may not be easily visible
The goalkeeper and match officials' kit colours might be indistinguishable from one of the team's kit
Stadium/training ground floodlights or indoor lighting can have the effect of making problem colours even more difficult to tell apart
Use of coloured pens/magnets on wipe-boards in back-room strategy/tactics sessions
During the 2012 London Olympics, GB Hockey introduced the use of a yellow ball on a blue pitch marked out with white lines and surrounded by a pink surface. This was ideal for colour blind people, see below (although the issue of kit clashes has still to be addressed).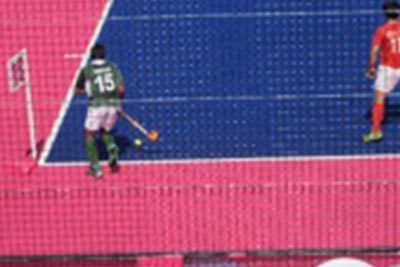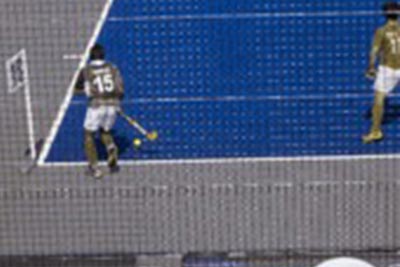 Here, players and spectators with CVD can see the ball, the pitch and the pitch markings just as easily as those with normal vision.
I sometimes find playing football hard as other team's kit looks like ours. My team wears orange. When I do training can't see the cones very well unless they're blue, white or yellow ones.
Marcus Aged 9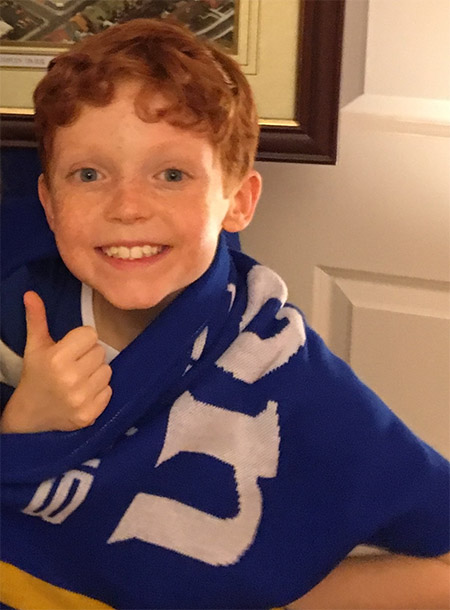 Marcus gives Everton's blue kit the thumbs up
Find out more about the diagnosis of colour blindness
Find out more about the causes of colour blindness
Find out more about the different types of colour blindness