Latest video!
Please watch our new video, released on Colour Blind Awareness Day, 6th September 2019 then click on the Parents and/or the Teachers sections of the website for more information.
1st APRIL 2015- see below

The #1ineveryclassroom campaign, featuring a cute animation, is our exciting new campaign designed to tug at the heartstrings of parents and teachers.
In it our lovely cloud sings us his version of the well-known Rainbow song and he tells us how difficult it is for him to explain what he can't see. Then he shows us how the colours of the rainbow appear to him.
The campaign is aimed primarily at parents, teachers and schools but we hope that everyone will find its message enlightening and that it will encourage people to find out more about how colour blindness might affect members of their own families, their colour blind friends and also people they work with, such as colleagues and potential customers.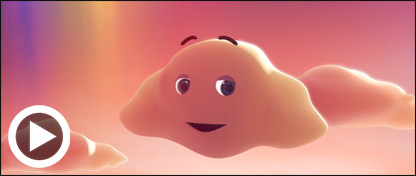 Watch the #1ineveryclassroom Rainbow Song here.
Statistically speaking one child in every classroom has a colour vision deficiency so we hope, having watched the animation, teachers will question which of the children they are currently teaching might be affected.
We want teachers to show the animation to pupils in the hope that its friendly message will encourage colour blind children to come forward. We'd also like to think it will instil empathy in the minds of colour normal children. As the song is very catchy it should appeal to younger children especially!
We also want the animation to make parents to question whether their own children might be colour blind. 1 in 12 boys and 1 in 200 girls have a colour vision deficiency but 80% are undiagnosed when they reach secondary school. We want parents to ask themselves if they ever remember their children having a colour vision test and if they are unsure, to take them to an optician.
'Marcus' Story' is the follow up video for the #1ineveryclassroom campaign and in it Marcus' mum, Marie, explains the story behind the making of the animation.
PRESS RELEASE 1st APRIL 2015 ATL 2015 conference – Colour Blindness
PRESS RELEASE 10 FEBRUARY 2015 #1ineveryclassroom press release