In the UK, colour blindness can be considered a disability under the Equality Act 2010 and it is incumbent on all areas of society, including the sporting world, to do what they can to reduce the difficulties faced by colour blind people.
At Colour Blind Awareness, our mission is to raise awareness of colour blindness and work with third parties to improve their services, workplace and social environment to make them more accessible to people with CVD. The best results come from a holistic approach, based on a coherent integration of a few simple solutions.
Simple Solutions
We work with:
Governing bodies and clubs to provide Formal guidance e.g. The Football Association, UEFA
Coaching bodies and management to provide training to support colour blind players and staff
Governing bodies, clubs, designers and architects to develop effective wayfinding strategies and accessible digital information
We also:
Raise awareness amongst external stakeholders e.g. broadcasters, equipment suppliers
Work with third parties to provide effective solutions

ColorAdd – coloradd.net offers a solution for wayfinding/ticketing/merchandising via an ingenious and intuitive code for colours which does not rely on language.

As part of the Portuguese Liga Final Four event in January 2017 in this video (colour blind) retired Portuguese international footballer 'Petit' discusses his colour blindness and the usefulness of the ColorAdd Code
Eyeteq – a TV set top box technology solution for broadcasters that helps colour blind viewers to distinguish between teams and makes graphics easier to read which has already been adopted by Vestel, the largest producer of televisions in Europe
As a result
We help to create
Fully accessible stadia, websites, ticketing and corporate information
Fully inclusive participation for players and spectators
Opportunities to exploit the business case (sponsors/broadcasting rights/ticket sales)
For example, in 2012 we approached Sunset and Vine, the production company responsible for Cricket on 5, to let them know their wagon wheel graphics were inaccessible for many colour blind people.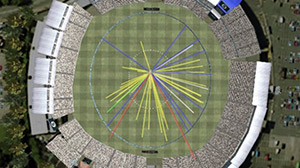 © Sunset+Vine Productions
Before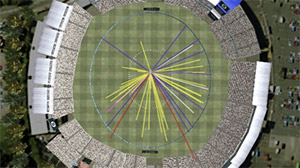 © Sunset+Vine Productions
After
The positive attitude of the production team resulted in subtle changes (such as increasing contrast between foreground and background colours) which allowed colour blind viewers to understand the information more easily, with no adverse effect for other viewers.
We feel it is very important that all our viewers get the ultimate enjoyment from our programme so we will do what we can to ensure that we make the necessary changes if possible.
Dylan Jane, Executive Producer, Cricket on Five, Sunset+Vine Productions
On-Going Commitment
It's important to review regularly the measures and guidelines put in place to assist colour blind people and to ensure they are implemented in all areas, at all times. Take care that it doesn't simply amount to ticking the boxes on the social responsibility checklist each year, otherwise the benefits are likely to be minimal in reality for the colour blind community.
We know some large organisations that have already issued formal guidance, but regrettably, a few of them neglect to carry out regular follow-up audits to check they are being implemented.
Find out more about the diagnosis of colour blindness
Find out more about the causes of colour blindness
Find out more about the different types of colour blindness