Colour Blind Awareness Day 2017
6th September 2017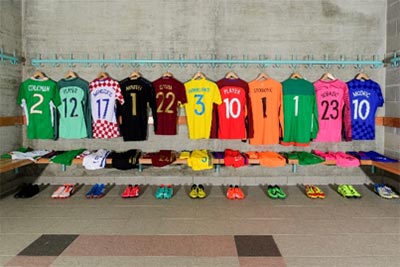 Normal Vision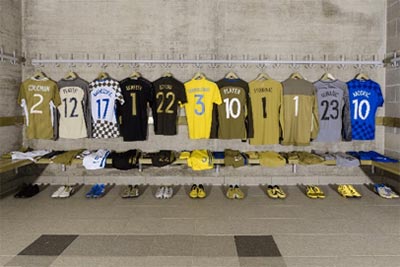 Protanopia
With the amazing support of our fabulous friends, especially –
The Football Association, UEFA, ColorAdd, The Swedish Football Association (SvFF), Liga Portugal, Centre for Access to Football In Europe (CAFE), Level Playing Field
…and our social media followers around the world, we're planning to make Colour Blind Awareness Day 2017 the biggest ever!
This year we want to start removing the stigma surrounding colour blindness. We want a world where the c.300 million people currently living with colour blindness are no longer afraid to talk about the problems they face at work, watching and playing sport and in school.
This clip shows that if two teams play in colour strips that appear the same (like in the right-hand section of the video), it's almost impossible for colour blind players and spectators to tell them apart.
Last year, for Colour Blind Awareness Day 2016, we introduced our hashtags #Iam1in12 and #Iam1in200 so colour blind men and boys (1 in 12) and colour blind women and girls (1 in 200) could use these to tell people they're proud to be colour blind.
The colour blind community really took these hashtags to heart and it was delightful to see so many people use them across social media on Colour Blind Awareness Day 2016. We're enormously proud they've also been adopted by the The Football Association, UEFA and The Swedish Football Association (SvFF) to raise awareness of the problems colour blindness can cause in football.
BUT….we need people with normal colour vision to understand the problems around colour blindness and to appreciate the reasons why, for example:
no elite footballers are willing to openly admit to being colour blind
colour blind children are embarrassed to mention the problems they have seeing vital information in the classroom
even high-flying businessmen won't say anything if they can't follow documents or presentations because they can't tell colours apart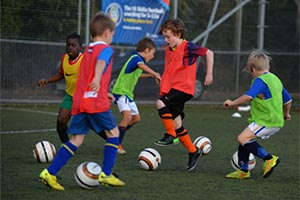 © TheFA
Normal Vision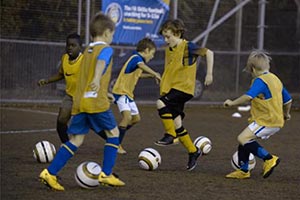 Protanopia
There's a stigma attached to being colour blind. Colour blind people don't want to be considered less capable than others. Colour blindness often makes people feel vulnerable, embarrassed and even stupid. Get a better understanding of how colour blindness can make people feel disadvantaged by reading their Personal Impact stories in the FA Guidance and by following posts on @colourblindorg. You'll be surprised at the many confusing situations colour blind people can face every day and in all walks of life.
Without raising the profile of colour blindness nothing will change, meaning our colour blind children, friends, relatives, colleagues and sporting heroes will continue to face discrimination in school, at work, watching and playing sport, at the shops or just browsing on the internet.
Don't be left out – be part of the revolution!
We're asking:
parents to stand up for their colour blind children
families to stand up for their colour blind relatives be they dads, grandads, uncles, sisters, brothers or mothers, and
mates to stand up for their colour blind friends – in their class at school, in their sports team, their cycle club, or just down the pub – wherever!
So, this year we're going one step further.
For Colour Blind Awareness Day 2017 we're introducing 2 new hashtags which we hope everyone will be willing to share – that's because everyone knows someone who is colour blind!
#kickthestigma
#kickingthestigma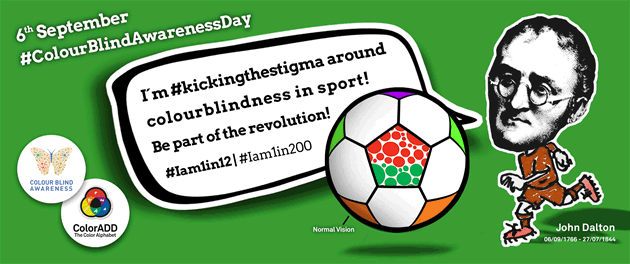 Stand with us and your colour blind friends, team-mates and relatives by sharing these hashtags! For example:
'I'm helping to #kickthestigma'
'… (organisation name) supports #kickingthestigma '
We're #kickingthestigma
and use the soccer emoji too, if you can!
Of course, we're still promoting #Iam1in12 and #Iam1in200, so mix and match those hashtags and become part of our fantastic community – don't be left out!
Let's create a positive change for over 300 million people on Colour Blind Awareness Day 2017!
If you're with us let us know so we can add you to our growing list of supporters and friends

[email protected]

ColourBlindAwareness

@colourblindorg @cbfootballfans

@colourblindorg